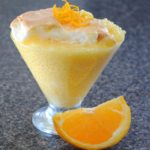 Print Recipe
Creamy Orange Sago Pudding
This creamy orange sago pudding was one of my Mother's favorite recipes. It has a beautifully creamy orange flavour which is not only delicious, but also brings back great childhood memories for me. This pudding tastes fantastic hot or cold.
Ingredients
Sago Mixture
1

Cup

Sago

1

Cup

Cream

1.5

Cups

Milk

0.5

Cup

Orange Juice

0.5

Cup

Sugar

1

Pinch

Salt

2

Teaspoons

Orange Zest

2

Tablespoons

Butter

2

Egg Yolks

Beaten
Meringue
2

Egg Whites

3

Tablespoons

Castor Sugar
Instructions
Sago Mixture
Preheat the oven to 180°C / 350F


Rinse the Sago to get rid of any excess starch. Drain and transfer to a saucepan.

Add in the Orange Juice, Milk and Cream.

Cook the Sago mixture over a low heat until the Sago is transparent then remove from the heat.

You can now add the Orange Zest, Sugar, Salt and Butter. Stir until the Butter has melted.

Add the beaten Egg Yolks and stir again.

Lightly grease an oven proof dish (roughly 8" / 20cm diameter by 4" / 10cm deep) and transfer the Sago mixture to the dish.
Meringue
Beat the Egg Whites until soft peaks form, gradually adding the Castor Sugar as you mix.

Gently spoon the Meringue over the Sago mixture ensuring an even layer over the entire surface.

Bake in the oven on the lowest shelf for approximately 25 minutes. The Sago should be set and the meringue a lovely golden brown on top.

Serve hot in a bowl. Garnish with Orange Zest or crumbled Honey Comb.
Notes
Store left overs in the fridge once cool. This pudding is just as delicious cold, but servings can be reheated in the microwave if you prefer it hot.
Today's Featured Ingredient
Sago


Sago is the starch from the centre of sago palm stems. Sago is the stable food of the people of New Guinea and the Moluccas. They call it saksak, rabia and sagu. They serve it cooked, formed into balls or as pancakes.
Sago is not the same as Tapioca. Tapioca comes from a different palm. Sago palms grows quickly, in clumps like bananas. When its finished flowering it dies and another sucker replaces it. Sago palms are harvested every 7-15 years. One palm can yield 150-300 kg of starch.
Sago has many health benefits as well. The nutritional content of Sago is very low, they often us it with other fruit and vegetables in a meal. It is also used in puddings and soups.
Sago is easily digestible which makes it a suitable food for babies and the young.