This is one of the first recipes I discovered back in the day when microwaves first burst onto the scene. It promptly became my son's favourite dessert. To this day it is still one of his favourites. Even the grand kids love this one as it has a gentle spiciness that even the youngest love.
This is what it looks like fresh out of the microwave: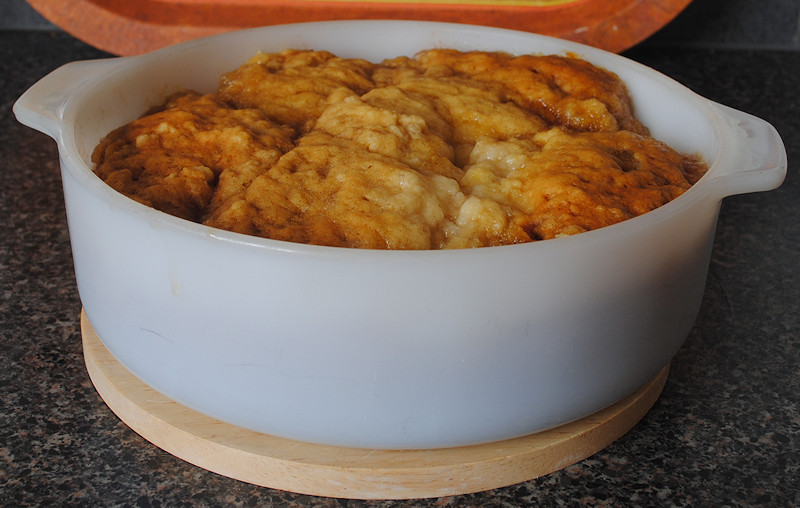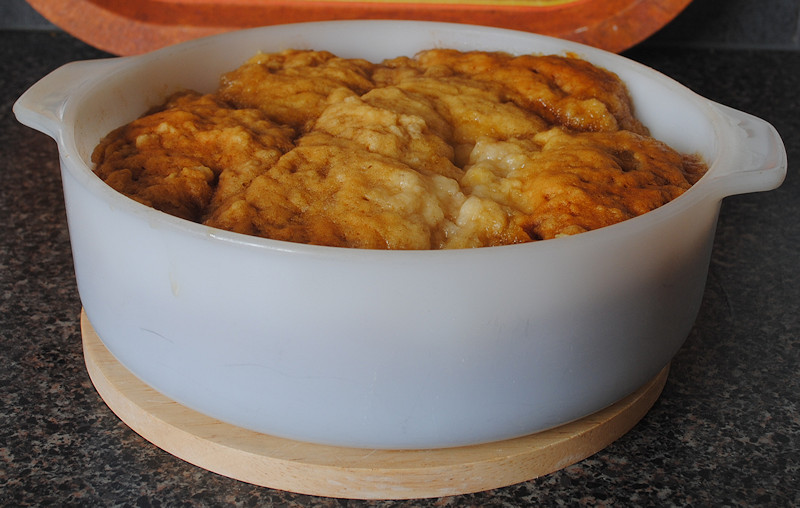 Now depending on how much sauce you like on your dessert will determine how deep you dig into the dish.
I like to scoop out a generous portion and then ladle some more sauce over the top. Yum.
If the pudding is left to stand, the sauce soaks more and more into the cake which makes this pudding even better when eating the leftovers the next day.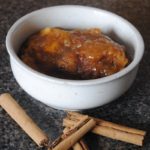 Print Recipe
10 Minute Rum Pudding
This recipe is a real crowd-pleaser and perfect for when unexpected guests arrive as it only takes 10 minutes to make. It has a lovely rum and cinnamon taste and if you use rum essence it can be non-alcoholic too.

Ingredients
Syrup
2.5

cups

Boiling Water

1.5

cups

Sugar

1

Tablespoon

Butter

1

Tablespoon

Lemon Juice

1

Teaspoon

Cinnamon

1

Teaspoon

Ground Ginger

2

Teaspoons

Rum Essence
Dough
0.5

cup

Apricot Jam

0.5

cup

Butter

2

Teaspoons

Baking Soda

1.5

cups

Flour

1

pinch

Salt
Instructions
Syrup
Add all the ingredients for the syrup in a saucepan.


Stir over high heat until the sugar has melted.

Dough
In a saucepan melt the butter and apricot jam, stirring continuously.


Stir in the baking soda.


Stir in the flour and salt.

Syrup
Add all the ingredients for the syrup into a microwave proof bowl.


Microwave on 100% until the sugar has melted and the syrup boils. Stir every now and again as you do so.

Dough
Place the butter and apricot jam into a microwave proof bowl and microwave in 100% for 1 to 2 minutes to melt.


Stir in the flour and salt.
Baking (both versions)
Pour the syrup in a 12" / 30cm diameter by 3" / 8cm high, greased, microwave proof dish.


Scoop spoonfuls of the dough mixture into the syrup.


Cover the dish and microwave on 100% for 5 minutes


Serve warm in bowls, drizzled with the sauce.

You can also serve this with custard or ice cream

Today's Featured Ingredient
Baking Soda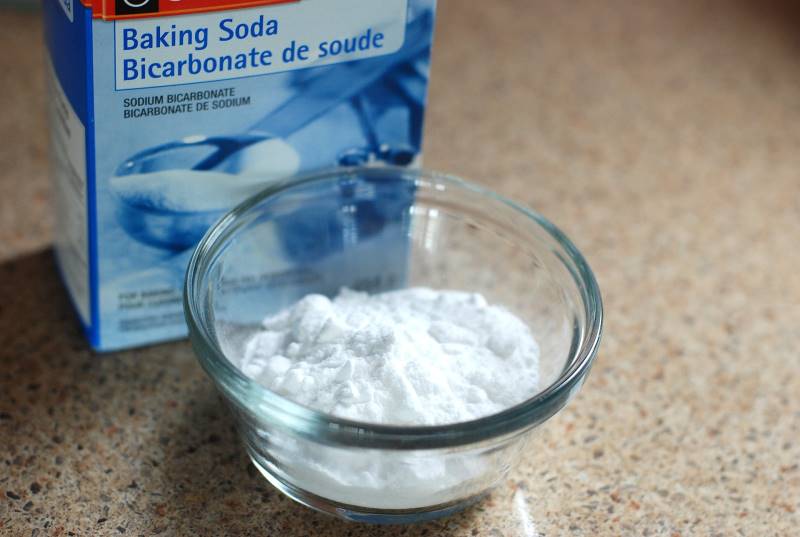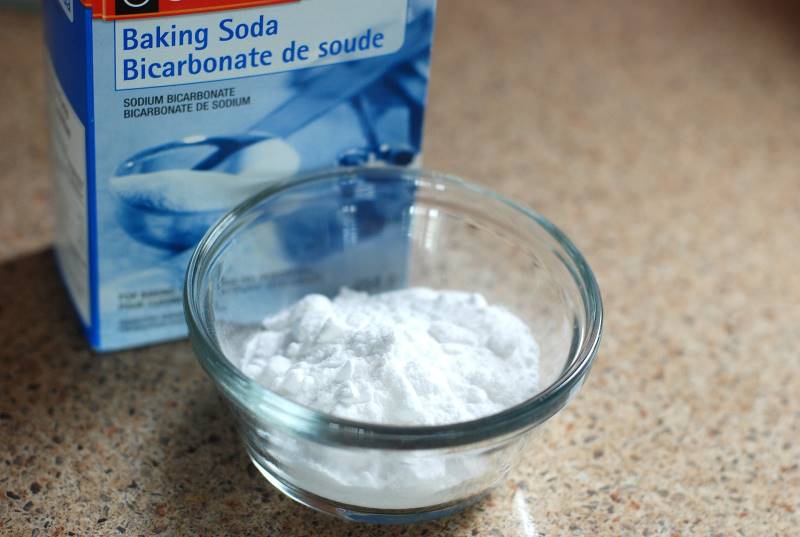 Baking soda is sodium bicarbonate that is add to baking goods to make them rise. Don't confuse it with baking powder.
When you mix together baking soda with acid ingredients such as lemon juice, milk or brown sugar and liquid you will get bubbles of carbon dioxide gas. It works the same as vinegar and baking soda. The gas bubbles expands in the heat of the oven and then rises to the top of your quick bread or biscuits. Giving you a fluffy product.
Baking soda is usually used in quick breads, muffins, cakes and biscuits. With baking soda it is not necessary to let the batter rise for long periods of time as with yeast.
To test whether baking soda is fresh, simply add a little bit to vinegar in a bowl. If it foams vigorously the baking soda is still fresh. Do this over the sink as this can create a lot of foam.